Sample Word Files in Many Languages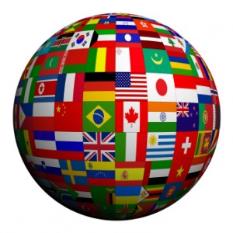 The purpose of this topic is to demonstrate how the Duxbury Braille Translator can work with documents in many different languages. This DBT Help holds a significant number of language samples in Microsoft Word format. There are actually a number of ways to import these sample files into DBT: with or without using Word, and with or without SWIFT.
Click here if you would like to learn how to import these files without installing or using either Word or the SWIFT add-in for Word.
Understanding the Tables on This Help Page
Below these instructions are three tables of languages by region:
Each of these tables has four columns:
Identifying flags
Language name - with a link to the Help page about that language.
Sample file name - with a link to open the MS Word file if you have Word installed on your computer.
Recommended DBT template - with a link to the Help page about the template for that language.
Using SWIFT and Microsoft Word
SWIFT is an add-in to MS Word designed to facilitate quick operations using a combination of Word and Duxbury DBT. You can obtain the installation file for SWIFT from the Duxbury Systems website (https://www.duxburysystems.com/swift.asp) or from your DBT installation CD-ROM.
Please see this section about installing SWIFT. Please see this help page about using SWIFT.
Find your favorite language in the tables below, and click on the name of the .docx file you want to use. This opens a dialog that invites you to Save the file, Open it, or Cancel. Clicking Open launches Word with the sample file.
If you want, you can highlight a portion of the Word file to restrict DBT output to just that one portion.
If you have SWIFT installed, your ribbon interface now shows a Braille tab. Click on the Braille tab to access SWIFT. It does a number of services for you. First, each of the sample files is internally marked with the name of the most appropriate DBT template (the one most commonly used with that language). SWIFT reads the template name to pass it along to DBT automatically. Second, it provides you with several quick processing options. Depending on your needs, you choose one of three output options (Emboss Direct, Open in DBT or Print Braille):

Open in DBT does just that. DBT comes up, loaded with your imported document, ready for editing or output.
Emboss Direct sends the document to DBT to immediately emboss it on your default embosser.
Print Braille sends the document to DBT to immediately print interline print and braille on your default printer.
The second two options require that you have previously set up your default embosser and default printer, which must be done in DBT itself.
Europe and Western Hemisphere
Asia
Africa