Locating Duxbury Systems
Duxbury Systems is located in Westford, a town about 25 miles northwest of Boston. When traveling from Boston North, you encounter Interstate 95

. Unless you are traveling at rush hour, go north or south on Interstate 95 (depending on your location) to exit 50A (old exit 32A), to travel north on Highway 3

. After 10 miles on highway 3 north, you get to interstate 495 South

. Travel 6 miles to exit 83 (old exit 32), which is Boston Road in Westford.
From the exit ramp, turn south onto Boston Road (if you were traveling North on 495, turn right; if you were traveling South on 495, turn left). In only .2 miles, you come to a set of lights.
Take a right turn onto Highway 110 west. Highway 110 is also Littleton Road. Go .8 miles until you see the sign for Olde Boston Square. Our address is 270 Littleton Road, Unit #6.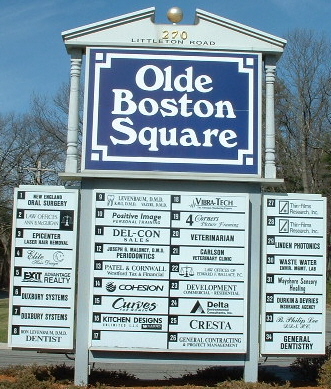 View Larger Map
Notice that only in small lettering on the top of the photo can you see the address "270 LITTLETON ROAD". It is easy to miss when driving.
---
Turn left into the business complex. The door to Duxbury Systems is unit 6, the middle of the left side.
How to Contact Us:
Mail: Duxbury Systems, Inc., 270 Littleton Rd., Unit 6, Westford, MA 01886-3523 USA
Telephone: +1-978-692-3000
Fax: +1-978-692-7912
Email
---
Copyright Duxbury Systems, Inc. Monday, February 7, 2022