Announcing SWIFT 5.5
July 6, 2020

SWIFT 5.5 is a Free Product which enhances
your copy of Word and DBT 12.2 sr1 or newer.
SWIFT 5.5 is free.
SWIFT 5.5 works with DBT 12.2 sr1.
You do need a copy of DBT 12.2 sr1 and a copy of MS Word (2007 or above) to use SWIFT 5.5.
---
Support for Customers without DBT 12.2 sr1 or Newer
There is a compatible SWIFT available for DBT's from 11.3 and up.
Install SWIFT 4.0 (which works with DBT 12.1 and 11.3)
Install SWIFT 5.0 (which works with DBT 12.2 and up)
Since DBT 12.2 sr1 is a free upgrade to DBT 12.2, we strongly recommend that you upgrade your DBT and use DBT 12.2 sr1 with SWIFT 5.2.
Only one copy of SWIFT can be installed at a time. If you have a different copy of SWIFT, you must use the Control Panel to uninstall the other copy of SWIFT before you can install the new version.
---
SWIFT Works From Inside Your Copy of Microsoft Word
SWIFT is an application which works within your copy of Word. Using SWIFT, you can send the current document (or a highlighted portion of a document) to Duxbury DBT, without having to manually start DBT and use the DBT File Open dialogue to load the document.
You can also make multiple, non-contiguous selections in Word and only open those in DBT. Great if you only wish certain parts of a document in braille!
SWIFT can send the current Word Document, translated by DBT, directly to the Braille embosser with no user intervention required using DBT's default settings.
SWIFT can send the current document, translated by DBT, to an ink printer using the Braille or SimBraille font.
SWIFT contains a "Style Mapper" so that you can customize the way DBT translates user defined Word Styles.
SWIFT can now save your selected DBT Template name within your Word file.
In the Options Menu (see screen shot below), select BANA if you are using the BANA Word Template (developed by Susan Christensen). Select Standard if you are making use of the Style Mapper. Selecting All Controls is normally only advised for expert users, but doing so does allow access to all aspects of SWIFT.
In SWIFT's own dialog boxes, such as Options and Style Map, you can press F1 when focus is on a field within the dialog and be taken directly to that point in the Help file.
---
Features of SWIFT 5.5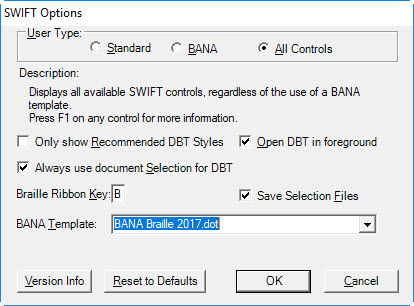 The ability to Emboss a portion of a Word file
An Options Menu (see above)
SWIFT 5.5 allows the user to choose from two very different workflows, Standard and BANA from the top lines of the Options Menu.
SWIFT 5.5 has the stability, accessibility, and ease of use that users expect from Duxbury Systems
The Standard Workflow
The standard workflow assumes that you are not using Word to pre-format the file for braille. Instead, you are using Word styles (either built-in styles or custom styles) consistently, and you wish to map these Word styles to the appropriate DBT styles.
In Word, you can see a style map, which allows you to specify how each Word style is to be mapped to DBT styles. If you wish, you can customize and save these settings, so that a series of Word files that all use the same set of styles can all be opened in DBT with the customized mappings.
The BANA Workflow
The BANA workflow assumes you are using the latest copy of Susan Christensen's BANA template for Word. You have full access to the menus in MS-Word (even with recent versions of Word). When the Word files are opened in DBT, all of the braille-specific markup placed in the Word files is honored in DBT.
SWIFT Documentation
You can download a pdf file with detailed documentation. Those following the standard workflow should focus on the beginning of the pdf. Those following the BANA workflow will concentrate on the material about Choosing a Template.
Installation of SWIFT 5.5
Only one copy of SWIFT can be installed at a time. If you have an earlier copy of SWIFT, you must use the Control Panel to uninstall the old copy of SWIFT before you can begin to install this copy of SWIFT. For our customers upgrading to DBT 12.2 sr1, you must uninstall your old copy of SWIFT before installing the new copy of SWIFT.
SWIFT requires the use of Microsoft .NET Framework version 4.5.2. See the notes at the bottom of this page for the details.
SWIFT 5.5 is designed to work with DBT 12.2 sr1. Do not use SWIFT 5.5 with any earlier versions of DBT.

Download SWIFT 5.5
---
Installation Issues (if you run into problems)
If you have a previous version of SWIFT installed, please uninstall the old version using the control panel.
If you install SWIFT 5.5 without deleting the previous editions of SWIFT, you may get an error message during the installation.
SWIFT requires .NET 4.5.2 to function. SWIFT does not check for the presence of .NET 4.5.2 itself. Instead, that task is performed by the SWIFT installer. If you should happen to uninstall or damage .NET 4.5.2, then SWIFT will stop working, and will not give you a clear error message. If you suspect this has happened, you can uninstall SWIFT, then install it again, and confirm the status of .NET 4.5.2.
---
Running SWIFT 5.5
Open Microsoft Word. Click on the Braille tab.
Before you do anything else, use the Options Menu to say if you are using the BANA Word Template or not.
SWIFT is designed to be as intuitive as possible. For example, SWIFT imports your Word document into DBT, uses your default DBT Template, and uses your default embosser or printer.
---
Support Issues
Please check the SWIFT pdf documentation.
Most support issues can be handled on the Duxuser e-mail list. Please mention how you set up the options menu in your support e-mails. Visit this page: https://www.duxburysystems.com/discussion.asp?groups=Duxbury DBT. A moderator needs to approve your request. He or she may ask for your DBT license number in order to filter out spammers.
---
Program Credits
This project involves many key people outside of Duxbury Systems. Chris von See did some early work on SWIFT. Tim Burgess, from England, programmed the Word side of the product. George Bell, also from England, coordinated everything, tested everything, and wrote the documentation. Susan Christensen (from the US) reworked her Word template, menus, and internal codings to match the changes to the programming environment as well as to the changing braille codes. At Duxbury, Peter Sullivan did the programming on the DBT side. Dana Winikates worked on the DBT API, which is a key part of SWIFT. The rest of the Duxbury programming staff has been involved one way or another.
---
---
Copyright Duxbury Systems, Inc. Monday, July 3, 2023