Duxbury News
The Accessible Books Consortium (ABC) Launches a Guide for the Production of Braille Books in India
Duxbury Systems is proud that this guide centers around the use of DBT. We also note that the advice in this guide can be applied to almost every country in the world.
The Accessible Books Consortium (ABC) is pleased to launch a Guide for the production of Braille books in India using digital content. The Guide, produced by the DAISY Consortium with the generous funding of the United Nations and Skoll Foundations, explains how digital files can be used to create Braille books in India. India was the first country to ratify the Marrakesh Treaty, and it has legislation allowing for the production of accessible format works – such as Braille, audio and large print – without the need to request prior authorization from the copyright owner.
Download here: A Guide for Braille Presses of India || Annex to the guide
The full press release is available at this location at the ABC website.
Perky Duck Releases
We are very happy to announce new Perky Duck releases.
There is a new Perky Duck for Macintosh and a new Perky Duck for Windows.
These are posted here.
Downloads of both products are on the same webpage!
Announcing Duxbury DBT Win 12.2 sr1
What is New in DBT
DBT Win 12.2 sr1
2017-12-19 (2018-01-09)
Major Improvements
Allow use of braille fonts in DBT find (Edit Menu)
Substantial improvements to the DBT Help
Able to insert a DBT file into another file (restoring functionality)
Mitigate the problem of not being able to generate braille fonts
UEB Improvements
Updated all the UEB Templates, adding three "fixit" styles (see below)
Fix the Exercise style in BANA with Nemeth Template, removing hidden right margin.
Restore functionality to the Australian UEB Template
Math Improvements
Fix for text above or below arrows in LaTeX importer
Misc. Changes
You can not use a hard hyphen in a find string (restore 12.1 functionality)
Remove the period at the end of a line for linear tables (respecting the new format rules).
Allow braille entry of dots 456 via a braille device linked via JAWS
It should now be possible to copy text from DBT and paste it into CorelDRAW!
DBT no longer fails to reload images saved in .dxp or .dxb files when any of the images have no labels.
Language Improvements
| Flag | Description |
| --- | --- |
| | Biblical: based on recent English UEB table |
| | French: make sure dots 36 in a contaction is not confused with a hyphen. |
| | Hungarian: improve braille-to-print. |
| | Indic (Languages of India) updated for Myanmar; almost totally rebuilt from scratch |
| | IPA: fix one character on b2p. |
| | Mongolian: improve braille-to-print to recognize emphasis and other changes. |
| | Polish: improve grade one; plus punctuation both directions. |
| | Slovenian: improvements in print-to-braille; based on e-mail |
| | Taiwan: Thorough revision. See description in whats new for 12.2 |
---
DBT 12.2
2017-08-25 (2017-08-25)
Duxbury Systems continually revises DBT to make fixes, respond to braille rules changes, and to add new features. The list below covers only changes since the last release. For the most recent information; possibly newer than that included here, please take advantage of Check for Updates from the Help menu. Or, visit the Duxbury Website for both new information and historical information about features and updates.
Primary Areas of Improvement
JAWS script file improvements (see below)
Translated Line is greatly improved and more responsive.
Math improvements (see below)
Contains new BANA 2017 Word Template with numerous improvements.
DBT Templates are now readable text files. This allows skilled users to assemble their own templates much more easily.
New Template for users in the United Kingdom: English (UEB) - UK Formatting (UKAAF)
New Table of Contents Style - UK Basic - which follows UKAAF formatting recommendations.
Improvements to the UEB translator (Unified English Braille) (see below)
New embossers and embosser improvements (see below)
TactileView integration repaired.
Improved Help Content.
Many internal efficiency improvements.
Language improvements (see below)
English UEB
Now supports document-specific Typeform Indicators as defined in the UEB Rules of Unified English Braille Section 9 for inkprint attributes that carry meanings the braille reader needs to know about . A range of such indicators can be defined such as the use of Script Font, Text Color or Highlight Color, as well as Drop Shadow and Outline Text. See the new user interface in the Global: Word-Importer dialogue.
Certain currency expressions, when marked as "technical notation," no longer give rise to an unnecessary grade one word indicator.
When a sequence of single capitalized letters is treated as a passage, the last such letter is included in the passage.
If

[ps]

...

[pe]

(i.e. superscript) codes immediately surround a trademark symbol (U+2122), they are now discarded as redundant.
Contractions of several uncommon medical terms have been improved.
New Embossers and Embosser Fixes
Support for the Braillo 300 S2 has been added to DBT.
TranSend SE is now supported on Romeo 60 and Juliet 120.
JAWS Improvements
JAWS now has better support for the DBT Spell Checker.
When reading a line as braille characters, for multiple spaces JAWS now says the number of spaces instead of speaking each space individually.
The JAWS script files for DBT include several new keyboard commands:

Alt+Comma - once, speaks the current column position; twice, speaks the number of remaining characters on the line.
Alt+Period - once, speaks the number of characters on the line; twice, speaks the number of spaces on the left.
Alt+Slash: speaks the last word on the line.
Alt+Semicolon - new keystroke to toggle between the PC cursor and the JAWS cursor at the start of the translated line.

No digits are missing when you press Alt+9 to hear location information.
JAWS consistently speaks the new page number when you move from one page to another in a DBT document.
For those using JAWS with refreshable braille using grade 2 translation, JAWS no longer says "computer braille" when DBT switches to a braille document window and the JAWS translation setting for refreshable braille changes to computer braille. Those announcements could be frequent, and users found them annoying.
Math Improvements
For translating into Nemeth Code in UEB context, we have solved a problem that caused intermittent errors at the start of math sections, such as a missing numeric indicator for a number at the start of a Nemeth Code section.
When importing a LaTeX file (from Scientific Notebook or another source) to create Nemeth Code in a UEB context, DBT now correctly suppresses the terminating and starting Nemeth indicators where there should be a "pass through in math" section; it also puts in the "one-word switch" where appropriate.
When importing math for Nemeth Code in UEB context, embedded text in a math expression that occurs inside a pass through in math section no longer causes problems.
The translated line no longer drops spaces in certain locations. Specifically, use of the math style now does not cause a space to be dropped on the translated line.
When importing a LaTeX file that uses the command

\includegraphics

, the DBT document now gives the filename of the graphics file.
User Interface
The Global, Word-Importer dialogue has a new option for mapping font characteristics to transcriber-defined Typeform Indicators for English UEB.
Selecting the correct language for Han character import now happens automatically with the choice of a DBT template. (Previously this selection always had to be done manually from the Global, Import Options dialogue, and that option is still allowed if the user wishes to continue to specify the choice directly.)
DBT updates documents immediately when certain global options are changed.
Miscellaneous Changes
We have improved the display of the translated line in formatted print documents for languages that introduce discretionary hyphens.
We have added two spaces to the formatted-view translated line at each place where a tab code is present in the markup.
We have eliminated the introduction of a bullet and space at the start of some "numbered" paragraphs in .docx files, where Word itself does not show them.
Treatment of blank cells in columnar tables has been amended to come more completely into compliance with BANA Guidelines.
The BANA Listed Table format now conforms to BANA Formats 2011 (11.16.1.e), so that for each row, the first element is formatted as a cell-5 heading. (That first element is normally labeled with the column heading.)
A Byte Order Mark, if present, is now stripped from the start of Unicode text imports, particularly when imported through DBT's formatted text importer.
DBT now adds codes to control spacing within the Exact Translation style when importing Word .doc and .docx files.
Language Improvements
| Country | Improvements |
| --- | --- |
| | Biblical Languages: many improvements, including a practical braille-to-print translator. |
| | Bosnian: braille-to-print now uses the new Croatian braille-to-print translator. |
| | Cantonese (Yue): now uses space as a tone mark in restricted circumstances. Has an improved braille-to-print translator. |
| | Chinese Mandarin: improved file importer, improved print-to-braille and braille-to-print translation. It is now possible to mix Chinese and English (English segments must start with a capital letter). |
| | Chinese Mandarin (Taiwan): improved print-to-braille and braille-to-print translators, uses Zhuyin characters intead of Pinyin. It is now possible to mix Chinese and English (English segments must start with a capital letter). |
| | Croatian: now with a functional braille-to-print translator. |
| | Danish: braille-to-print translation properly uses the exclamation mark (when the dropped 'f' is at the end of a word) and better handles a contraction before a period (full stop). |
| | Dzongkha: DBT supports the new braille rules. |
| | IPA: handles the UEB indicators for brackets and slash. |
| | Korean: the braille-to-print translation has many improvements. |
| | Portuguese: now handles four additional punctuation marks in braille-to-print translation. |
| | Slovenian: the braille-to-print direction now uses the new Croatian braille-to-print translator. |
| | Spanish: braille-to-print translation can produce a proper period in all contexts. |
| | Thai: fixed two formerly incorrect characters in print-to-braille. |
| | Venda: improvements in print-to-braille; now includes a functional braille-to-print translator. |
| | Welsh (Cymraeg): fixed some previously incorrect contractions. |
---
Announcing SWIFT 5.2

SWIFT 5.2 is a Free Product which enhances
your copy of Word and DBT
SWIFT 5.2 is free.
SWIFT 5.2 works with DBT 12.2 sr1.
You do need a copy of DBT 12.2 sr1 and a copy of MS Word (2007 or above) to use SWIFT 5.2.
Support for Customers without DBT 12.2 sr1
There is a compatible SWIFT available for DBT's from 11.3 and up.
Since DBT 12.2 sr1 is a free upgrade to DBT Win 12.2, we strongly recommend that you upgrade your DBT and use DBT 12.2 sr1 with SWIFT 5.2.
Only one copy of SWIFT can be installed at a time. If you have a different copy of SWIFT, you must use the Control Panel to uninstall the other copy of SWIFT before you can install the new version.
Announcing NEW DBT for Mac
DBT for Mac is no longer in beta!
This version is free for purchasers of DBT for Mac 12.1 beta!
To use DBT for Mac, we recommend running Mac OSX El Capitan (10.11), Sierra (10.12), High Sierra (10.13), or higher.
Pricing is the same as for DBT Win: $695 for a single-user license.
DBT MAC print and braille files are compatible with DBT WIN.
Contact your local dealer or Duxbury Systems directly!
SWIFT Works From Inside Your Copy of Microsoft Word
SWIFT is an application which works within your copy of Word. Using SWIFT, you can send the current document (or a highlighted portion of a document) to Duxbury DBT, without having to manually start DBT and use the DBT File Open dialogue to load the document.
You can also make multiple, non-contiguous selections in Word and only open those in DBT. Great if you only wish certain parts of a document in braille!
SWIFT can send the current Word Document, translated by DBT, directly to the Braille embosser with no user intervention required using DBT's default settings.
SWIFT can send the current document, translated by DBT, to an ink printer using the Braille or SimBraille font.
SWIFT contains a "Style Mapper" so that you can customize the way DBT translates user defined Word Styles.
SWIFT can now save your selected DBT Template name within your Word file.
In the Options Menu (see screen shot below), select BANA if you are using the BANA Word Template (developed by Susan Christensen). Select Standard if you are making use of the Style Mapper. Selecting All Controls is normally only advised for expert users, but doing so does allow access to all aspects of SWIFT.
In SWIFT's own dialog boxes, such as Options and Style Map, you can press F1 when focus is on a field within the dialog and be taken directly to that point in the Help file.
Click here for more information.
---
George Bell 2018 Calendar Files
Braille 2018 Calendar files available for DBT users. (zip file for download)
Thanks to George Bell of
Techno-Vision Systems Ltd.
for creating these and making them available!
---
MegaDots Sales Discontinued
After much consideration, Duxbury Systems confirms that MegaDots will not be made UEB capable. MegaDots sales will be discontinued immediately.
It is with much sadness that we have come to the point where we must say goodbye to MegaDots. Thank you to all the loyal users, contributors, programmers and supporters over the years.
We will be contacting those who have purchased MegaDots since January 1, 2015 for a special offer. All registered MegaDots 2.4 customers will be able to upgrade to the current version 2.5 at no charge. We will continue MegaDots technical support until July 4th, 2016.
Thank you all for your past, present and future love of braille and literacy as keys to individual determination and freedom.
We, at Duxbury Systems, are very proud to have carried on the heritage of literacy for the blind that was shared by Raised Dot Computing & Braille Planet. We will honor and continue that tradition with the current and future editions of the Duxbury Braille Translator and future developments.
We look forward to an exciting future as Duxbury Systems moves into its 40th year of working with braille
Duxbury Welcomes BANA'S Decision to Adopt UEB
On November 2, 2012, the Braille Authority of North America voted to adopt Unified English Braille, while also retaining the Nemeth Code for Math and Science, following a carefully designed transitional process as announced in BANA's press release at: http://www.brailleauthority.org/pressreleases/pr-2012november.html
With this announcement, UEB has now been adopted by all the members of the International Council on English Braille. Because some other ICEB countries have been using UEB for several years, our Duxbury Braille Translator (DBT) already supports UEB and, by virtue of the table-switching facility, it is also already possible to use Nemeth Code in the context of UEB. We are working to make that kind of transcription even easier in future releases.
Our president, Joe Sullivan, has been deeply involved in the development of UEB, having chaired the basic code design subcommittee from the beginning of the UEB development project in 1991 until acceptance of the code by ICEB in 2004, and having served since 2004 on ICEB's committees for maintenance of the code. By virtue of that involvement, he is naturally pleased to see UEB's gradual acceptance as a robust universal code for English-based text including math and other kinds of technical notation, but he is also aware of many issues that will need to be worked out over time and determined to support BANA's decisions fully.
Duxbury Systems acknowledges that it needs to make changes in DBT so that US users can more easily select Nemeth Code for math in conjunction with UEB (or any other braille code) within DBT.
Introducing NimPro
Duxbury Systems is introducing a new product, NimPro, to read NIMAS files. This product automates many of the common transcriber steps which may be very time consuming. These files can then be exported to DBT (version 11.1 or higher) or to MegaDots (version 2.4 or 2.5).
NimPro is currently available for $295 for licensed DBT 11.1 and MegaDots 2.4/2.5 users only.
NimPro directly reads NIMAS/Daisy files. Often NIMAS files are huge, and loaded with graphics. You can start the preparation of these files for braille using NimPro.
NimPro exports to files for DBT and MegaDots, ready for braille production.
Nimpro exports to Microsoft Word documents with BANA Styles (Braille-ready styles) included as an interim format to present to DBT or MegaDots.
Nimpro contains automated "wizards" to convert inconvenient and inappropriate text styles into styles that facilitate correct Braille, applied at the user's direction to the pages or sections the user selects.
Nimpro has several ways of handling images. One approach is to render images from the original text into tactile graphics using QuickTac, available free from Duxbury Systems. Another approach is to replace graphic images from the original text with either text or direct Braille. Both approaches are illustrated in the screen shots shown below.
NimPro lets you divide the document into manageable segments for Braille production.
NimPro converts all unrecognized text styles into styles understood by DBT and MegaDots.
NimPro offers easy controls to adjust multiple heading levels to match the needs of Braille output.
NimPro has controls to adjust automatic list numbering, bold face, and italics.
NimPro has automatic addition of guide dots on tables of contents.
NimPro has automatic conversion of the complex mark-up of tables into the correct format for DBT, MegaDots, or MS Word. This includes handling of lists and multiple paragraphs within tables and complexities such as tables nested inside other tables.
NimPro offers control over the output of page number references.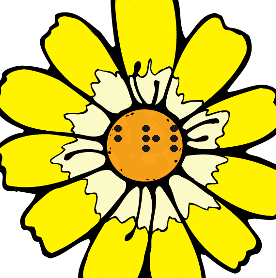 For more information about NimPro, click here.
---
Duxbury Systems offers Two Important Document Collections
Duxbury Systems created two important web pages
Those who study the history of the blind and the history of braille should find this material useful.
---
Copyright Duxbury Systems, Inc. Wednesday, April 11, 2018