Thiel Impacto 600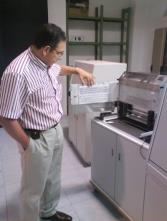 The Thiel Interpoint is a high-performance interpoint embosser that cannot do graphics. It only has a serial interface. To change the parameters, you need to run a program from your computer. The English language setup program is called SETX10UP.EXE. Set the unit for MIT code (this is their term for North American character set).
DBT Control File listing for: Thiel Impacto 600
Click here for the complete list of all the embossers supported by Duxbury DBT.
Duxbury DBT supports virtually all commercially made embossers. If you have concerns about any embosser model, please e-mail support@duxsys.com