Revealing Styles used in Word
While working with Word styles, you might want to have the style names displayed in the document window of Word itself.
In later versions of Microsoft Word, from the View tab of the ribbon interface you can simply change the Document View from "Print Layout" to "Draft" and the Style Area should appear. (If it does not, you need to set its width to be larger than zero in the Word Options dialog. See the sub-topic, "Setting the Style Area Width".)
In Word versions that predate the ribbon interface, you display the Style Area by setting its width to a size greater than zero:
1. Switch to View: Normal if you are in a different view.
2. On the Tools menu, click Options, and then click the View tab.
3. In the Style Area Width: box, enter a positive measurement, for example, "3.5" cm. Word will display the style names in the style area pane to the left of your document.
Note: This option is available in Normal view only.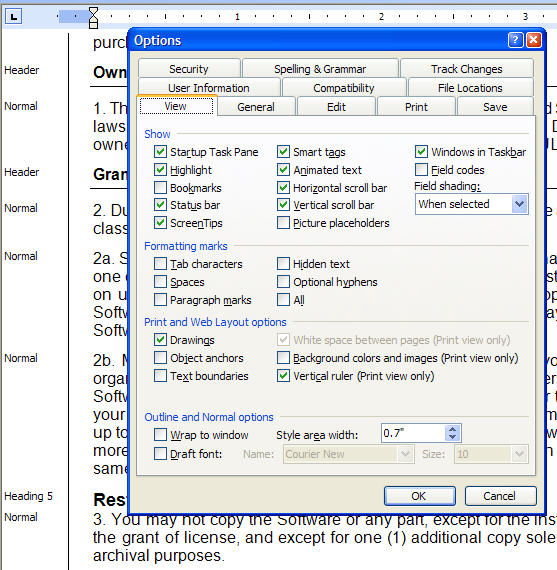 If you are a mouse user, you may also adjust the width of the Style area by "grabbing" the border and moving it left or right as indicated below.

Side Note:
Have you spotted the problem with the styles used in the screen shot, if the document were to be imported into DBT? A "Header" style has been used where a "Heading" style was actually intended.